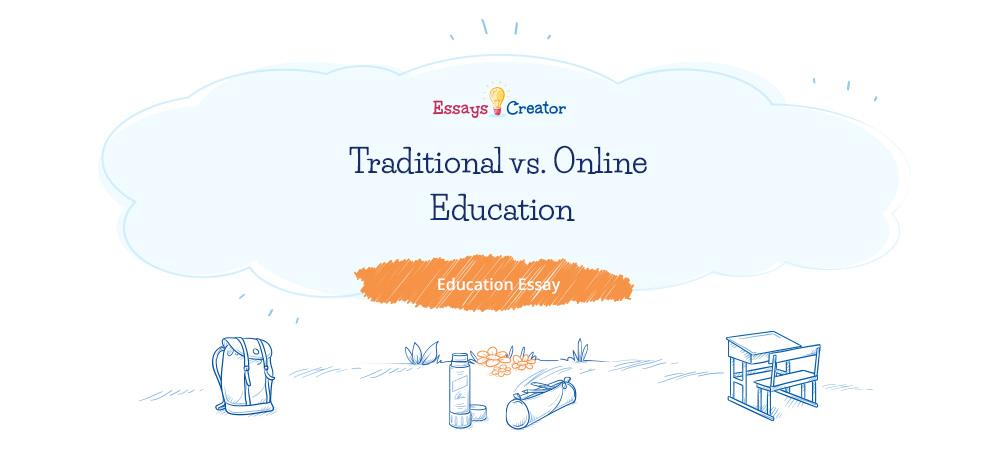 The number of learners enrolling in online learning programs is increasing at a high rate. Prospective learners view the online or non-traditional approach as a means of furthering their formal education and also as a way to advance their careers and expand their opportunities. Therefore, traditional education is not better than online education.
To begin with, traditional education is more expensive in many instances compared to online education ("Online vs. Traditional" n.pag.). Online education provides apparent savings on transportation, which includes bus passes, parking, and gas fees. Traditional education does not give such an opportunity. With online education, there is no necessity for expensive meals or housing plans since one would not be living near or on the college campus, which is common for conventional education. The costs of tuition can also vary greatly among most online institutions. Once a student has chosen a study field, it is feasible to compare the prices with other online programs. In most cases, there is no need to buy expensive college textbooks while studying online. One can easily download all the resource materials required from the Internet. On the contrary, traditional education presupposes purchasing expensive textbooks ("Is Online Education More Efficient than Traditional Learning?" n.pag.).
Order your Education Essay help today!
Online education is much convenient than traditional education. Convenience is probably the leading reason for the substantial expansion of the industry of online education over the last few years. When students take their courses online, they have an opportunity to set their study timetable according to their personal needs. Flexibility makes non-traditional or online learning an ideal choice for people already working part-time or full time, for parents who have young children or other family commitments, or for people who travel a lot ("Is Online Education More Efficient than Traditional Learning?" n.pag.). Students decide when and where to study. Provided that one has Internet access and a computer, the classroom is accessible twenty-four hours every day for seven days per week. On the contrary, there is no such flexibility in traditional education as students must attend classes according to a set timetable.
Another benefit of online education over traditional education is the level of empowerment. This subject is often disregarded when discussing non-traditional education; nevertheless, it plays an important role in the rising popularity of online training programs. When one enrolls in an e-learning course, he/she retains a substantial amount of anonymity. Some of the discriminating factors, for example, age, gender, physical appearance, disabilities, and even race that are encountered in traditional settings are principally absent in e-learning education classes. Most students find this accepting and open environment to be very liberating. The level of anonymity that students get when they enroll in online studies empowers those who could be more set aside in a traditional classroom environment to share their opinions and views in online discussions. Students do not face prejudices and biases encountered sometimes during a live classroom lecture ("Online vs. Traditional" n.pag.). Thus, this empowerment brings a positive impact upon the success and self-esteem of a student participating in a non-traditional education program.
Lastly, online education has the advantage of setting one's learning pace, whereas traditional education does not allow students to set their training pace. Non-traditional or e-learning allows one to choose an appropriate learning program. The students can choose the amount of time they can spend on learning. With the constant accessibility of online degree programs, it takes from two to three years to complete a degree program, which is less compared to the time needed to complete a degree at a traditional institution ("Online vs. Traditional" n.pag.). Regardless of the e-learning program one chooses to enroll in, students are always in charge of the situation to the extent of the number of courses they take in one session. Students are also in control of the overall time they want to spend on completing the programs they choose. If a student's conditions change during the study because of some family or work issues, he or she can speed up or slow down the learning process. On the contrary, students preferring traditional learning are unable to choose the pace at which to study and complete their degrees.
How it works
Step 1
Visit our website and go to the order form
Step 2
Fill in specific essay details in your order description section
Step 3
Pay for your custom essay and get your order verified
Step 4
Process of writing your academic assignment
Step 5
Editing and anti-plagiarism check
Step 6
On-time delivery of an already written essay
The disadvantage of online education over traditional education, on the other hand, is the necessity to use technologies. For a student to enroll in online education, he or she must have reliable and affordable access to the Internet and a modern computer. Often, such tools are unnecessary in traditional education ("Online vs. Traditional" n.pag.).Technology can be a major problem if a student lives in a lower socio-economic or rural neighborhood that has less than sufficient Internet access. If the time online is restricted by the quantity of Internet accesses one can afford, then the participation and instruction in an e-learning program would be complicated. Therefore, it would be difficult to achieve success.
Traditional education does not require both the students and instructors to have a minimum computer experience level to become successful in the traditional setting ("Is Online Education More Efficient than Traditional Learning?" n.pag.). On the contrary, there is a need to have a minimum computer experience level to become successful in an online setting. One should be capable of using a wide range of search engines, as well as feel comfortable navigating around the worldwide website. One must be familiar with newsgroups and know how to use email. If a student or instructor does not know how to use the tools of technology, it would be hard to attain success in online education program.
Lastly, if one is resistant to changes or feels uncomfortable using the most current computer technology, then online education programs would not be beneficial. Online students should learn new skills, for example, reviewing and searching for resources on the Internet. When it is not comfortable for a student to work with modern computer technologies and use information from the Internet regularly to complete assignments, he or she should better think of a more traditional educational environment ("Online vs. Traditional" n.pag.).
In conclusion, traditional education is not better than online education. On the contrary, online education is better than the traditional one because traditional education does not embrace new technology. In addition, traditional education does not allow students to choose their learning schedules. Students must use transport to arrive to school, pay rent and buy expensive meals, which makes it more costly than online education ("Online vs. Traditional" n.pag.). The social media involved in online learning help students to maintain a lively social life outside the classroom. Online education allows learners to arrange time in their way, leaving some hours for hobbies, sports, and meeting with friends. Many programs also permit students to take the most interesting classes for them. Besides, learning online is much easier, which makes it better than traditional education.
Other essays