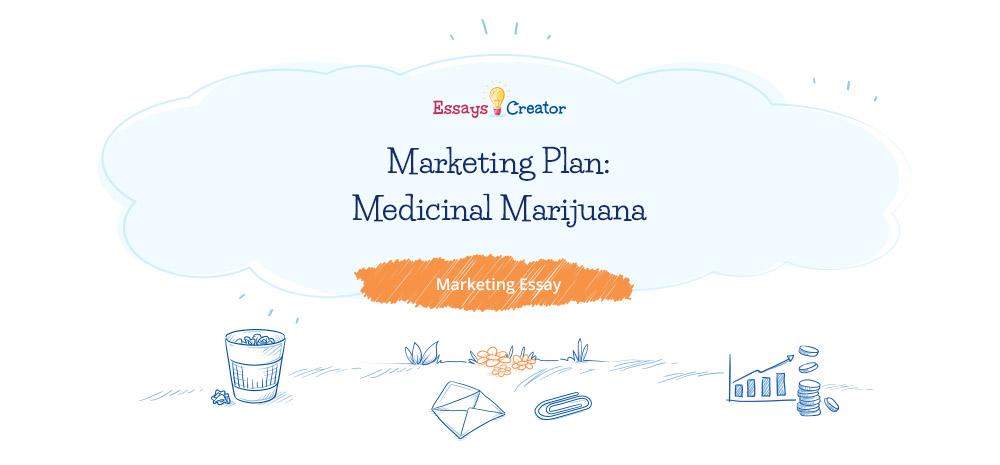 Marketing Plan: Medicinal Marijuana
Situational Analysis SWOT
Cannabis has been used by diverse cultures for its medicinal qualities. However, in recent times, the use of cannabis for medicinal purposes has faced a lot of stiff criticism and opposition from bodies such as the American Medical Association. Instead, proponents argue that medicinal marijuana can be used to treat pain as well as decrease nausea and vomiting for those who are on chemotherapy. Several states have previously legalized the use of medicinal marijuana. Today, Florida is on its way to the legislation of medicinal marijuana (MMJ Business Daily, 2013). As a result, more business entities dealing with the product are being established than ever before. Increasing competition proves the need for dispensaries to have comprehensive marketing plans to target customers.
1. Industry Analysis
The medicinal marijuana industry is one of the youngest industries in the US. The first state that legalized medicinal marijuana was the state of California. It was in the year 1996. Since that time, more states have legalized its use. However, little data is publicly available about the operations of medicinal marijuana dispensaries. Now, the federal government, as well as trade associations, does not track financial operations about the medicinal marijuana industry. The industry does not also have a national database about the sale of medicinal cannabis at the state level.
The industry has faced a federal crackdown in recent times, which reduced the market size significantly. Moreover, the medicinal marijuana industry has faced a lot of criticism and challenges from local communities in states (Morgan, n. d.).
Order your Analysis Essay help today!
2. Sales Analysis
Whereas the government has not been keen on monitoring financial records in the cannabis industry, private organizations and other bodies have been able to track the progress of sales on a state-by-state basis.
The data collected shows that the sales of the industry have been reducing since the year 2011. In the year 2011, the sales in the industry averaged a total of $1.5 billion. It reduced amidst government crackdowns in states to about $1.2-1.3 billion for the year 2012. In addition, the industry also faced a lot of civil forfeiture threats, as well as fallouts with the banking and credit industries. The industry began to take on an upward trend in 2013 with sales averaging $1.3-1.5 billion. Sales analysis for the year 2014 has projected figures of around $3.0 billion. The industry is expected to see strong sales and growth from the forecasts that have been projected so far. Challenges the industry is currently facing are expected to be overcome as the industry continues to mature. The growth is largely attributed to new markets that will be created with after more states legalize the use of medicinal marijuana. According to the Office of Financial Management in the State of Washington, the legalization of the marijuana industry across the United States will position it to hit $46 billion in terms of annual sales (MMJ Business Daily, 2013).
3. Competitive Analysis
The competition outlook for marijuana is very high. The state of Florida is set to legalize the sale of medicinal marijuana (Dreier, 2014). As a result, business interests have soared with stakeholders' positioning themselves for operations.
The industry is also facing a lot of competition from already established industry players. For example, the market that deals with anti-depressants and anti-anxiety drugs is already occupied with businesses that have been in the field for many years. They include players such as Prozac and Xanax.
4. Customer Analysis
Now, over 25 million people are eligible for medical marijuana medication under the law. It includes a sizeable population in the state of Florida. To use medicinal marijuana, one must obtain the recommendations of approved doctors.
Data continues to show an increase in cancer cases amongst populations in Florida. Punishing chemotherapy means that there are more people who will require the services of medicinal marijuana to deal with the effects of chemotherapy such as fatigue and nausea.
How it works
Step 1
Visit our website and go to the order form
Step 2
Fill in specific essay details in your order description section
Step 3
Pay for your custom essay and get your order verified
Step 4
Process of writing your academic assignment
Step 5
Editing and anti-plagiarism check
Step 6
On-time delivery of an already written essay
5. SWOT Analysis
A SWOT analysis gives insight into the positioning that the firm is placed in as it ventures into the medicinal marijuana business.
Strengths.
Medicinal marijuana has been proven a good pain reliever for those suffering from extreme pain.
Cannabis is also effective in dealing with symptoms related to chronic diseases like AIDS and cancer.
It has minimal side effects. They are usually classified as minor adverse effects with no major adverse effects.
Multiple methods can be used to take medicinal marijuana, including smoking and eating.
Weaknesses.
There is much stigma about the use of medicinal marijuana due to cultural issues.
There is a possibility of abuse by users.
Professional bodies, such as the American Medical Association, have not endorsed its use yet (MMJ Business Daily, 2013).
Opportunities.
Marijuana is known in many cultures and has been long used for medicinal purposes.
The already established market can be used to create a positive image of medicinal marijuana.
A lot of tax revenues are to be expected as it is already a very profitable business venture.
Threats.
The current crop of drugs has been proven to be very effective and offer various levels of treatment and to varying degrees.
The use of medicinal marijuana is still federally illegal, even in places in which it has been legalized (MMJ Business Daily, 2013).
6. Analysis of Marketing Activities
Marketing activities regarding the sale of medicinal marijuana in Ocala, Florida will employ a mixture of techniques, aimed at targeting the market in the area. In order to reach a wider audience, it will be effective to employ information technology. Therefore, the firm should consider creating a significant online presence (Aemarketer, 2011).
Search engine marketing. The company will have to create a website that will be serviced by search engine optimization (SEO) protocols (Lovering, 2014). With an increasing array of dispensaries to be set in Florida, it is vital to ensure that the organization's website has a high ranking. It will enable it to be easily accessible when patients and customers are searching for services offered by the firm.
Newsletters and articles. The medicinal marijuana industry is a new industry with many common misconceptions. It will be prudent for the organization to organize newsletters to be distributed to the public and customers. The content should be informative to shed more light on the industry. Newsletters have to be distributed either on a weekly or monthly basis to subscribers. To achieve synchronization, these informative newsletters and articles should be integrated with the organization's website. It will be crucial to collect email addresses to enhance the effectiveness of this particular initiative (Pride & Ferrell, 2008).
Trade shows. The medicinal marijuana community is seeking to establish good public relations with the communities around them. Therefore, the firm should be able to optimize the opportunities of attending trade fairs and shows to a full extent.
Pay for 9 pages here or for 10 pages on other sites.
Most of the competitors provide
270 words or less
per page, while we give you 300. Add a 15% first-time customer discount and
SAVE 25% ON YOUR FIRST ORDER!
Product placement and positioning. As there is increasing competition from the already established drug companies, the organization should focus on creating a comprehensive information distribution system to hospitals and other health centers. Magazine, articles, and brochures can be used in this endeavor. It will enable the organization to have a wider reach of the market. It is a target marketing form that will ensure that the right population can be serviced with the information on the use of medicinal marijuana (Galician, 2004).
It is crucial to focus on the stigma campaign in an overall manner. Emphasis should be put upon the advantages that medicinal marijuana has to offer. For doctors who are important links to the market, they have to be approached in a way that shows that they are well-educated. The presentation of scientific facts will motivate them to prescribe medicinal marijuana to patients.
7. Implementation Plan of Product Design and Development
The implementation of the marketing plan will involve a complete understanding of both the product and the market (Crow, n. d.). The product must be able to reflect the values of the company and those of customers. For this reason, product design and development should be done through an evolutionary perspective.
Therefore, the organization must understand the strategy and the direction that it has taken. In this case, the company has to understand the type of medicinal marijuana that it will produce.
Another aspect of product design and development involves the use of technology (Inwood & Hammond, 1993). There are various ways of cultivating cannabis and processing it to produce the required medicinal marijuana for different purposes. Therefore, the organization should focus on extraction methodologies and instruments that will be used for such purposes.
In order for product design to be effective, it is crucial for the organization to perform a quantitative analysis of the approach. The focus should be placed on the appreciation of a customer and his/her needs. The organization also has to pay attention to promoting consumer understanding. In order for product development to be effective, constant communication with customers must be established in such a case. Customer relations should be established to ensure that there is constant feedback on the product. It should be complemented by a comprehensive analysis of the data collected through market research and surveys (Rainey, 2005).
Other essays