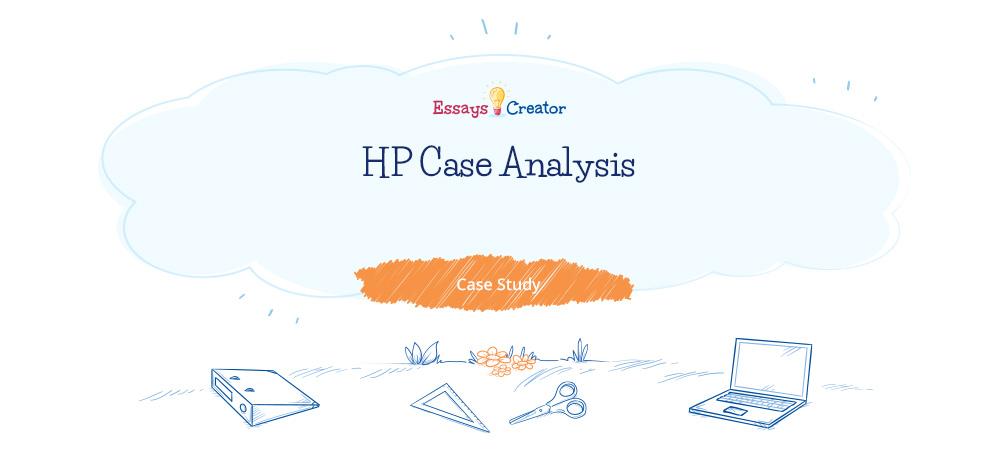 Introduction
Hewlett-Packard abbreviated as HP, is one of the leading information technology companies in the world. HP headquarters are in Palo Alto, CA. HP is a global firm with operations in over 170 countries in the world. The company specializes in manufacturing and developing computer-based networking and storage hardware. The firm is also involved in the development and design of software applications. Finally, the company provides information technology (IT) related solutions and services (Packard, Kirby & Lewis, 2005). HP sells and markets its products straight to the users as well as selling to medium, small and large businesses. The value chain distribution channels of the company include office supply retailers, consumer electronics, and software partners. In addition to this, the company distributes or sells its products through Internet e-stores. HP Company is highly diversified across several market sections providing a wide collection that includes everything from digital entertainment and home peripherals and computers to powerful supercomputer networks. In terms of service delivery, the company covers the spectrum from product support for customers to enterprise solutions and support for medium and small size businesses. No company offers a complete IT product portfolio like HP. The presence of broad diversification has provided HP with a distinctive competitive advantage in the IT industry. The company has positioned itself as a company that delivers the right products and service solutions to a vast array of consumer requirements (Packard, Kirby & Lewis, 2005).
Hewlett-Packard Company Background
The company was started by David Packard and William Hewlett in 1939 at Palo Alto, CA with an initial capital investment of $ 538. It became incorporated on August 18, 1947, but its trademark was not filed until November 1954. HP became a publicly-traded company on November 6, 1957. In 1990-2005, the company experienced some major turbulent moments in business as HP has been involved in some major acquisitions (Packard, Kirby & Lewis, 2005). In 2001, the company announced that it was buying computer manufacturing company Compaq for $ 19 billion. This move was aimed at forming a formidable rival to IBM. In 2005, CEO Carly Fiorina stepped down amidst upheaval about the company's business performance following her contested decision to buy Compaq. In July of the same year, the company announced an intention of cutting 14, 500 jobs under the leadership of Hurd. On August 26, 2006, HP bought Electronic Data Systems for $ 13 billion, and a month later they announced a plan to reduce its jobs by 24, 600 as a part of business integration. The company reported revenues of $ 120, 357 million until October 2012. This was a 5.41 % decrease from 2011. The operating loss of the company was $ 11, 057 million. The operating cost was reported to be $ 9, 677 million, and the net loss was $ 12, 650 million. In 2012, the company reported $ 10.6 billion in cash flow from operations which was used to reduce some of the debts to reach $ 5.6 billion and returned $ 2.6 billion to stockholders (Packard, Kirby & Lewis, 2005).
Order your Case Study help today!
HP PESTEL Analysis
Political
The political analysis of HP Company mainly involves government rules and controls to abide with the Environmental and Corporate Social Responsibility. The company tries to achieve this by ensuring it continues to make good and sound environmental decisions, enhance decency and quality in its products. HP operates in over 170 countries, and this means that the company is highly impacted by the regulations in different locations. The company thus tries to adapt to changes in import duties and taxation. There is a political risk as a result of the likelihood of adverse political forces in the areas of operation and this causes drastic changes in the country's business environment (Packard, Kirby & Lewis, 2005).
Economic
In the information technology industry, economic factors that highly affect the business of the company include disposable income, inflation, and unemployment rates. Technology can at times be viewed as a luxury if a high number of people are unemployed and lack enough disposable income. To ensure market sustainability, HP depends on income from its production hardware, financial reserves, investments in medium and small enterprises, and Internet solutions. Just like other industries, HP suffered from the 2007-2009 economic recession, but as a result of effective strategic management, the company is improving (Maheshwarappa, 2013).
Socio-Cultural
HP Company has a local United States base well captured. However, it appears that the company has done very little to attract the upcoming young generation. The company is still producing the same computer models that are not enticing to the young generation. The corporation has not put enough effort in trying to catch up with other information technology firms which produce a new model almost every year. Therefore, HP Company should thus adopt new strategies to ensure that its products remain fashionable in the industry.
Technology
As an information technology company, this is the most important aspect of the company. The information technology business is developing at a very fast pace. New technologies are being released every dawn. For HP Company, technology is a part of the company and the company can be said to have gone cyber some years ago. The company has improved its technology unlike it was some decades earlier. The turning point can be linked to 1998 when the software, corporate, and support divisions were amalgamated, and Ann Livermore took over as she successfully ran the newly formed enterprise computing solutions organization with an investment of $ 15 billion and an employee base of 44, 000 (Maheshwarappa, 2013).
Environment
Environmental issues have continued to affect and influence HP strategies. The company's operations are always subject to federal, state, local, and foreign laws concerning the environment. Some of these laws include discharge of air pollutants, disposal, and management of hazardous wastes and substances, and cleanup of contaminated sites.
Legal
The information technology industry must comply with various legal requirements. As the largest patent holder in the United States, the Patent Reform Legislation grants HP four patients per day. HP is a frequent target of frivolous patent lawsuits. Some of these lawsuits have made the company divert some of its development resources, and this has reduced economic gains from inventions.
Internal Analysis -VRIO
Competition
The major competitors of HP include Dell and IBM. However, HP has managed to be a leader in the technology industry. Some of its competitive advantages have resulted from mergers and acquisitions. In 2001, HP merged with Compaq, and this enabled them to create a bigger market share (Maheshwarappa, 2013).
In terms of research and development, HP has been in the lead. The company has been effective in creating and patenting some of the leading products in technology. HP has patented touch screen monitors, and this has ensured that the company continues to receive royalties from the invention. HP has also acknowledged that employee learning is very essential, and this makes the company spend a lot of money on employee development.
Resources
HP has employed approximately 324, 600 workers worldwide. These customers help service over 1 billion customers around the 170 countries where HP operates. The company's enterprise business is the biggest segment of the business accounting for 36 % of the company's revenue. This business segment provides servers, software, storage, and information technology services. This enables the company's enterprise and mid-market business clients to manage their current information technology environment and convert them into business enablers. HP Enterprise Business has two sub-divisions that enhance its functioning (Maheshwarappa, 2013).
HP Labs
These are advanced and exploratory research teams for the company with approximately 600 qualified researchers in 7 locations, in 170 countries.
HP Software Division
This is the Enterprise Software Division of the company. From the year 2005 to 2010, HP bought around 15 software companies as a part of publicized and deliberate augment of its software offerings for large business customers.
SWOT Analysis
Strengths
HP is a chief actor in the IT market. It is a world-leading global PC maker. According to Gartner, HP was the first in the IT industry with a market share of 16.2 % handling approximately 14, 645, 041 shipments. It has also emerged as a leading company in personal imaging and systems. In 2012, the company was the second vendor of servers with a 27.3% market share. In the global blade server market, HP is a leader with a market share of 50 %. In 2012, HP stated a market share of 9.7 % in disk storage systems, in the world. Additionally, HP was ranked number 10 in the 2012 fortune 500 rankings. HP supports more than 130 stock exchanges and over 200 banks in the world. Its market position has not only enhanced the company's reputation but also extended its customer base.
The strength is that the company has diversified its products and has a wide topographical presence. HP is an international IT firm with operations in over 170 countries. The company serves over 400 government clients in 31 countries as well as delivers a wide range of IT products and services (Maheshwarappa, 2013).
Inorganic growth strategy is another strength possessed by HP Company. This has been a crucial strength to the company, and it has enabled it to enter new market segments. The company has acquired many companies over the year, and this has increased its revenues.
How it works
Step 1
Visit our website and go to the order form
Step 2
Fill in specific essay details in your order description section
Step 3
Pay for your custom essay and get your order verified
Step 4
Process of writing your academic assignment
Step 5
Editing and anti-plagiarism check
Step 6
On-time delivery of an already written essay
The strength is that HP has mainly focused on research and product development. The company has thus introduced new products in the market. HP invested $ 2.81 billion in 2012 on research and development and launched web OS 3.0.
Weaknesses
The company has been involved in several litigations. This has hampered the company's goodwill and brand image in the eyes of potential investors. In 2006, the company faced an investigation by the America Exchange and Securities for leaking broad information to the public.
Weak financial performance is another key concern for the company. During the end of the fiscal year 2012, the company witnessed declined revenue and this could negatively affect its business.
Opportunities
Recent agreements and contracts with several companies can enhance the company's performance. In November 2012, Emirates Airline signed an agreement with HP to use HP Elite Pad nine hundred tablets as the main interface for its novel. America Veteran affair awarded the company a $ 39 million contract to continue supplying operations and maintenance of software. In 2012, HP also signed a contract with P&G Company.
There is a globally increasing demand for computers, and HP is well placed to take this opportunity because the company operates in over 170 countries.
Threats
There is a fast revolution in technology, and this can affect the company's business operations. There is also a growing trend of paperless work. The printing department of the company will be highly affected because there will be no need for manufacturing copiers. Another threat is that the IT industry is becoming very competitive with companies like Apple coming up with new PC technologies (Maheshwarappa, 2013).
Other essays