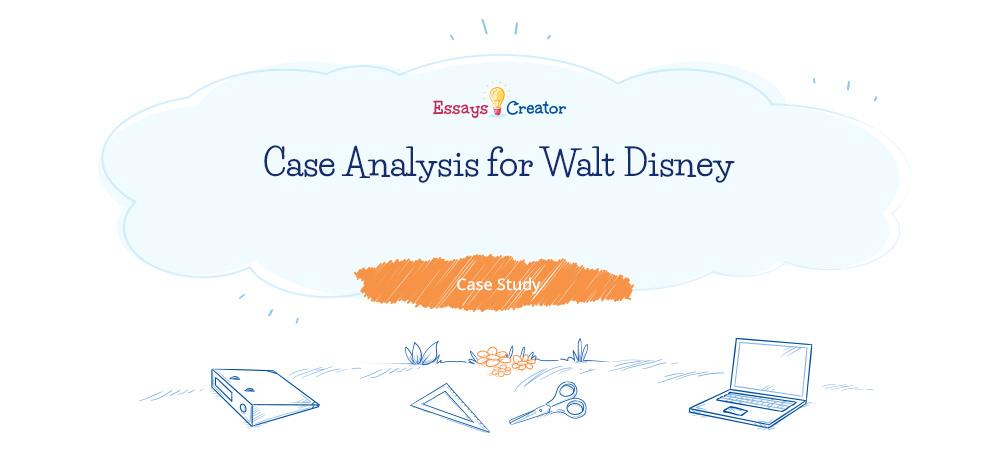 Introduction
One of the modern leaders of the global entertainment industry, the Walt Disney Company was launched in 1923. Walt and Roy Disney, the two brothers extraordinary gifted in animation and cartoon drawing, gave a bold chance to their passionate idea. Five years later, their prolific partnership gave the world the first of Disney's iconic cartoon characters, i.e., the Mickey Mouse. The following two decades complemented this range with Pinocchio, Snow White, Dumbo, and Bambi. The startup went public in 1940. After the death of his brother in 1955, Roy Disney added Walt's name to the company's title and embarked upon a successful global expansion of its operations through mergers and acquisitions. Nowadays the Walt Disney Company is present in five industries, such as "Media Networks, Parks and Resorts, Studio Entertainment, Consumer Products, and Interactive" ("The Walt Disney Co. (DIS)", 2015). It runs businesses in 172 countries and represents 1300 radio and TV broadcasting channels worldwide ("Disney history", n.d.).
The Walt Disney Company's formulated its vision to be "the world's leading producers and providers of entertainment and information." Corporate essential objectives are stated as a commitment "to maximize earnings and cash flow, and to allocate capital toward growth initiatives that will drive long-term shareholder value" ("Disney history", n.d.). The company's generic strategy is that of diversification. Its success lies in "using the portfolio of brands to differentiate its content, services, and consumer products" ("Disney history" n.d.).
Order your Case Study help today!
Its key strengths include a reputable brand, a time-honored character portfolio, financial capacity to develop and implement innovation, business diversity, successful acquisitions, and emphasis upon customer service. The major weaknesses lie in the field of deteriorating profit margins incurred due to contracting consumer budgets and piracy acts. It is aggravated by the increasing operating costs and the requirement to deliver new products regularly. Its opportunities lie in expanding its presence in the emerging markets. Low market thresholds, severe competition, and piracy appear as the principal threats (Thompson, Strickland, & Gamble, 2012, p. 273).
Consolidated financial data for recent years proves that the company holds a solid financial position (Appendices A-C). It has been able to grow profits regardless of the adverse effects of the recession. Its inventory turnover has shown only small symptoms of deterioration while remaining the best in the industry. Its working capital turnover saw a significant revival and holds significantly ahead in the field. The company is struggling to stabilize its payables and receivables turnover. It has a steady positive cash flow ("Walt Disney Co. (DIS)", 2015).
Main Body
The greatest challenge for the Walt Disney Company is looming in the field of declining profitability and deteriorating consumer budgets in its core market. It is important to address this problem as a priority. It undermines the company's capacity to maintain financial independence and grow.
There are three strategic alternatives comprised of a combination of strengths and opportunities that the company can use to mitigate the problems at issue: (1) to use historical branded characters in new settings; (2) to provide greater authority and independence to SBU to adapt operations and portfolio to fit the emerging markets; (3) to create and promote new character portfolio.
How it works
Step 1
Visit our website and go to the order form
Step 2
Fill in specific essay details in your order description section
Step 3
Pay for your custom essay and get your order verified
Step 4
Process of writing your academic assignment
Step 5
Editing and anti-plagiarism check
Step 6
On-time delivery of an already written essay
The first option exploits the greatest corporate strength. It is the most cost-efficient and sustainable alternative. It is advantageous both at the corporate and SBU levels, as both will share participation in its development and implementation. The second option is efficient in terms of gaining deeper access to the lucrative markets. More independent SBU operations can furnish better adaptation of the core content and portfolio for the local markets. However, the company risks losing its brand identity and centralized governance. The third option allows exploiting Disney's historic strategic advantage and draw ahead of the competition. However, it is the most insecure and cost-based option. The company had its share of failures when producing new characters. It cannot afford another fiasco at this critical moment.
With a view to the abovementioned considerations, the recommended strategic alternative is to use the most famous Disney characters in new settings. The implementation plan should invoke a uniform effort on the part of Media Networks, Parks and Resorts, Studio Entertainment, Consumer Products, and Interactive segments to revive and promote the core portfolio. It should include such settings as theaters, movies, animated pictures, mobile games, TV, entertainment events, and sponsorships.
The greatest challenge would be to engage the cutting-edge technology in each of these fields to provide the customers with a unique and modern experience of reuniting with their favorite characters. It will also be challenging to employ this initiative in those foreign markets that have little value and loyalty to Disney's iconic portfolio. The company should involve as many characters as possible at once. In such a way, it will benefit most from this initiative until its competitors copy the strategy. Critical and financial success should be the primary leverages of control and evaluation. By the end of the year, profitability and cash flow indicators as well as industry awards will confirm the strategy's utility and financial prospects.
Conclusion
The selected alternative to update Disney's iconic portfolio in new high-tech settings conforms fully to its corporate mission and profit-oriented strategic objectives. This strategy involves three strengths to develop one opportunity and mitigate two primary threats. It is a secure short-term solution to the company's lingering financial challenges in a recessive economy. Interactively using its copyrighted portfolio the Walt Disney Company will be finally able to produce a formidable rebuff to piracy.
Other essays