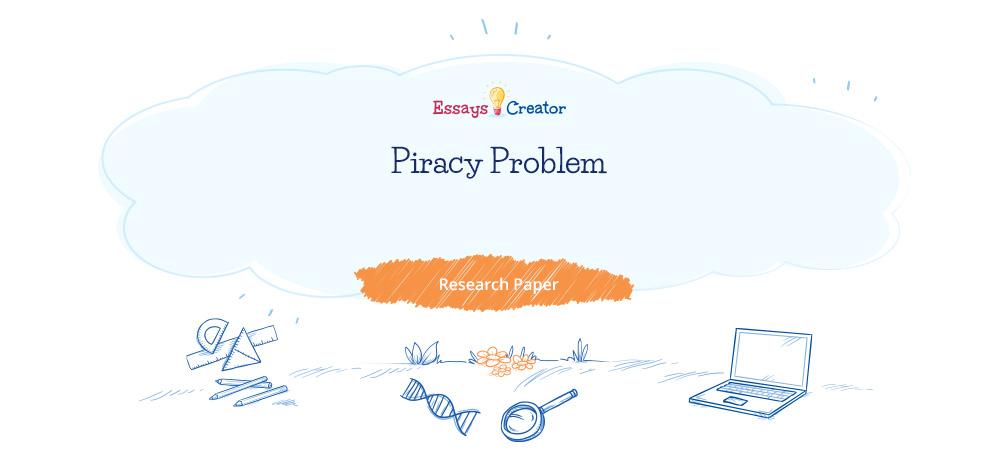 Nowadays, the problem of piracy is an actual issue for all developing and developed countries in the world. The annual turnover of counterfeit products is estimated at millions of dollars in spite of all attempts to eradicate piracy. At the same time, the public opinion is very ambivalent about this issue. Most producers of software products have an extremely negative attitude towards piracy, and some of them actively fight against it. However, a large number of ordinary users are willing to buy counterfeit products and share them, realizing illegality of their actions. This essay will give a comprehensive examination of the problem of piracy, its background, and ways to limit wide distribution and popularity of pirated products.
Use of the term "piracy" in relation to copyright has a long history. According to Will, first it was used in the preface to the poem The Lover's Tale by Alfred Tennyson, where it was said that parts of the work "have of late been mercilessly pirated." (p. 10). Today, copyright infringement involves not sanctioned distribution of material protected by copyright, such as software, music, movies, books, and computer games. Owning intellectual property rights is protected by law in most countries. Copyright infringement usually is understood as follows:
• making a copy and its sale;
• making a copy and sending it to someone else;
• in some cases, resale of a legally purchased copy.
The history of piracy has its roots deep in time when the first devices for recording and listening to music appeared. According to Cummings, taking into consideration the piracy background, the following list can reflect its main milestones:
| | |
| --- | --- |
| Year | Event |
| 1964 | The company Philips invented the compact cassette. |
| 1968 | About 2.4 million of cassette recorders were sold. The popularity of cassettes is growing. |
| 1978 | The music industry is seriously concerned about competition with the domestic record libraries. |
| 1983 | First CDs invented by Sony and Philips appeared on the market. Prices for players are very high, what severely hampers their sales. |
| 1985 | The first major crisis of the recording industry caused by the growth of "home" piracy. Record labels placed logo depicting skull and crossbones which was accompanied by the words "Home recording is killing music" on audio products. |
| 1989 | Sony introduced its DAT-tapes. They were first equipped with built-in copy protection. Due to the reluctance to license other manufacturers, DAT format did not have a wide distribution. |
| 1992 | International record industry adopted the standard of recording MPEG-1 Layer III (MP3). |
| 1993 | A new blow to the music industry, related with the rise of sales of CDs. |
| 1997 | 20-year-old student Justin Frankel and his friend Tom Pepper created a program for listening digital audio on a PC – Winamp. Subsequently, they create a program Gnutella to share music tracks via the Internet. Winamp becomes a favorite MP3-player among young people. |
| 1998 | Piracy by MP3-Internet technologies gets on a huge scale. RIAA (The Recording Industry Association of America) which controls such well-known record labels as EMI and Warner Music, does not like this situation. |
| 1999 | 19-year-old student of American University Shawn Fanning creates a program Napster, which allows sharing MP3 files via the Internet. In the same year, RIAA and 5 recording companies filed a lawsuit against Napster. |
| 2000 | Exchange of MP3-files at US universities becomes so popular that it slows down work of many corporate networks. There is a decline in music sales in the stores located near the universities. Napster lost in the proceedings against the RIAA. |
| 2001 | A fall in sales of legal CDs by 5% is noted, for the first time in many years. The number of users of file-sharing systems grow. The most popular of them are Napster, Morpheus, and Gnutella. |
| 2002 | The number of users of the program Napster amounts to over 10 million, and a fall in sales of legal music is more than 15%. File sharing networks place their servers out of reach of the American law - in China. In response to it, recording companies filed a lawsuit against the major Internet service providers, trying to make them block access to sites with pirated music |
| 2005 | Creation of the program Utorrent, which is able to give users a huge amount of multimedia information, became a real breakthrough in the field of Internet piracy. |

(pp. 25-35)
In the last ten years, piracy has gained in scope considerably. The number of users of pirated production has grown rapidly, and today there are more than 100 million of them. Every type of software content can be pirated. Although, the choice whether to buy or to pirate certain production is governed only by human consciousness, one can note efforts made by some states to solve this problem.
Since 2013, the Copyright Alert System has been functioning in the US. Duties to monitor users have been assigned to internet providers by the U.S. government. For example, if a user was caught downloading or sharing the pirated product, he or she will consequently receive six warning messages. After that, the providers take action in ways they deem fit, for example, reduce the speed or carry out a preventive conversation with the offender.
According to Johns, digital rights management or DRM is software or hardware means intended to limit or impede the variety of actions with data in the electronic form. Also, they allow such actions to be tracked. DRM is a set of systems of monitoring and access control. At present, DRM is used by many companies worldwide, including Amazon, Apple Inc., Microsoft, Electronic Arts, Sony, 1C, Akella, and others. In 1998, the US adopted Copyright Law in the Digital Age, which aimed at introducing criminal punishment for spreading of technology beyond DRM (p. 124).
Without a doubt, there are some legitimate ways to consume content on the Internet. The program iTunes is one of them. It is a media player for organizing and playing music and movies, developed by Apple. Originally, the music bought in iTunes Store had a built-in protection and could not be converted into a different format by other regular means. But in December 2009, Apple announced the standard iTunes Plus, where they removed the copy protection and increased the quality of the songs. At the moment, all 6 million tracks in the iTunes Store are translated into the format iTunes Plus. Besides, rules of the most popular video hosting YouTube prohibit uploading video if its content violates US law on copyright. Spotify is a music service offering legal streaming of music of many record labels including Sony, EMI, Warner, and Universal. It has over 15 million regular users, 2.5 million of whom have a paid subscription to consume content on a legal basis (Fredriksson & Arvanitakis, pp. 34- 51).
However, there are some issues between these services and the artists. Some of them state in their interviews that platforms like Spotify, YouTube, and iTunes do not adequately support their work by providing fair payment. As Seabrook states, among those who speak sharply of Spotify and Apple iTunes are such famous musicians as Will.i.am, Thom Yorke, David Byrne, Pink Floyd, Beck and others. With their statements in the press and social networks, they try to make the platforms pay them a fair fee for using their music. Some of the musicians remove their tracks from the platforms. The example of Taylor Swift is very vivid. She refused to make her new album "1989" available online. In addition, Thom Yorke and Radiohead removed their entire catalogue from Spotify.
Obviously, Internet piracy is evil. It affects not only the state, which receives fewer taxes, and the authors, but also the consumers, who are slowly but surely destroying the market of new products. Nevertheless, many consumers are not ready to pay the "legal" price for media content. Along with purchasing power, the culture of consumption and respect for the law play an important role in the process of fighting against piracy.
Related essays