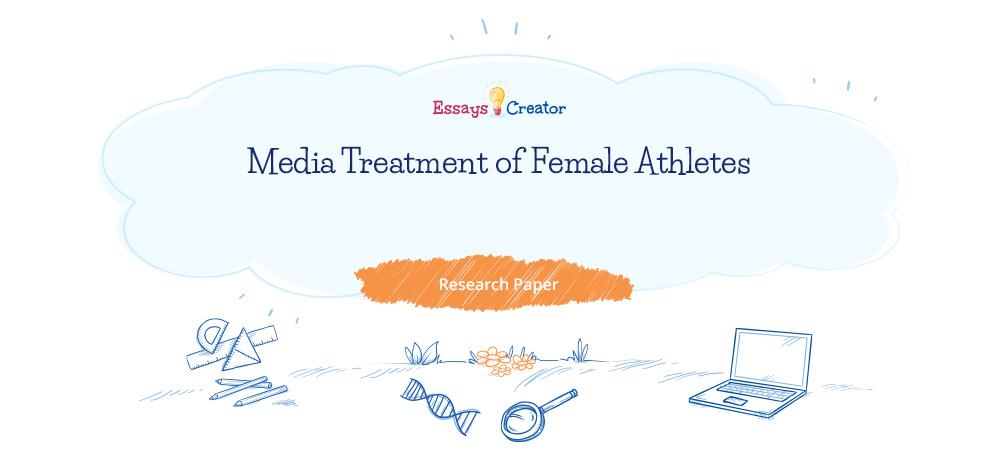 Nudity and sexual show are increasingly becoming common phenomena in the world of athletics. Some female athletes have expressed an open desire to gain fame and earn money by showing their nudity in public. Since the first of such events, many female athletes have joined the bandwagon, with their explicit sexual images appearing in magazines. While the habit has enabled them to achieve their objectives, such moral decay works to compromise their dignity and impacts negatively on their integrity.
Huang points out that the athletics industry is constantly turning into a sexual exhibition (1). Indeed, many athletes are using sexual images and scenes as a strategy to make money and become famous. Traditionally, athletes would wear tracks even when being active in the field. However, a lot has changed since Brandi Chastain, the soccer player, removed her jersey with the aim of revealing her sports bra. This performance gave some female athletes the misplaced idea that they could use their attractive physical appearances to earn money. Today, many athletes expose their bodies on magazine covers and pages, with much of their bodies exposed. Much as the aim of Brandi Chastain's performance was to reveal the sports bra she had on, the underlying purpose was to display her sexual body curves. This argument is supported by her subsequent decision to have her nude photos in Gear Magazine. In an effort to justify their unacceptable and immoral acts, some female athletes, such as Ms. Acuff, posed for nude photos at a charitable event. By working under the guise of raising money for charity, they demonstrated that the actions of Brandi Chastain set precedence for other female athletes to display explicit images of their bodies. For instance, the Canadian women's ski team posed naked after this incident. Today, a great number of female athletes are making money by posing for pictures in sexy undergarments (Huang).
Huang notices that some female athletes will stop at nothing in their quest to make money by displaying their photos in magazines. It is true that through such sportswear, these athletes have managed to gain fame by drawing the attention of many people. Due to the drastic shift from tracks to revealing sportswear, Huang refers to this behavior as a cultural indictment. Indeed, these athletes continue to display half-naked images despite the displeasure and condemnation that society has registered on the same. There is a traditional belief that aggressive sports are a preserve of men. In fact, The Women's Sports Foundation in Long Island has spoken in support of this statement. Since men are bound to enjoy more fame and better income from the different sports, some female athletes are keen on matching the fame and wealth by using their bodies to achieve their goals. Instead of focusing on achieving success in the field, these athletes have opted to engage in using the sexual images of their bodies to achieve fame and amass wealth. Some observers point out that the athletes have turned this into a business. Manufacturers of sportswear and sports outfits pay such athletes to promote their brands in sporting events, advertisements and commercials. On the other hand, the athletes sell their way to their perceived success of money and fame. Although men are comparatively less notorious for displaying their nudity, the underwear line of Ian Thorpe promoted one of their underwear brands, Speedo, by having Michael Phelps wear on them (Huang).
In the past, female Olympics athletes were regarded as objects. However, major changes have been witnessed in the modern world. Today, female athletes can work hard to earn fame and money just like their male colleagues. While past generations of female athletes struggled their way to the top, the playing field has been made favorable to enable modern athletes to achieve success in the field. However, the media has constantly focused on the physique of female athletes instead of their hard work and success as stated by Kane and Lenskyj (1). Such concentration on the physical qualities has led many more athletes to displaying their nude pictures in magazines. The majority of female athletes have a desire to feature in popular and best selling magazines in an attempt to gain fame.
Most of the other sexual and nudity stories are mainly similar to Brandi Chastain's. Prior to the Sydney games in 2000, a swimming star used only her hands to cover her breasts while posing without her top. The shameful actions by Jenny Thompson were a deviation from the traditional culture of athletes over the years. Moreover, the actions were a clear demonstration of an emerging trend among female athletes. By posing half naked in magazines, they have let go of their personal principles. Instead, they are driven solely by the uncontrolled desire to make money and become famous. However, without realizing it, these athletes have brought shame to themselves and brought disrepute to the athletics fraternity as a whole. Displaying their bare bodies in public is not an acceptable way to attract admirers. However, despite the moral rot among these athletes, there are some who stand out as moral compasses. According to Huang, Jenny Finch, whom the ESPN voted the hottest female athlete, turned down offers to pose for Maxim and Playboy, citing her desire to be a good example to younger girls.
Huang notes that there are a number of female athletes who have not abandoned their values and principles. Some athletes have demonstrated that they can benefit from their attractive appearances without compromising their dignity. For instance, the conducts of Anna Kournikova, the tennis player and Gabrielle Reece, the pro volleyball player are a clear contrast from the actions of Brandi Chastain. After their victories, the two athletes' photos on the Internet showed that working hard is a respectable way for athletes to attract fame. Their decent pictures raised their profiles, earned them respect and made them famous. In this respect, it has been established that helping young athletes to appreciate the values of hard work and patience may help in dealing with this habit. Younger athletes should understand that the path to success is not easy and be ready to earn fame and money through conventionally acceptable ways. The misleading behaviors of Brandi Chastain and Ms. Acuff are inspired by the desire to make money through short-cuts.
The media has played a role in encouraging the outrageous sex and nudity controversies involving athletes. The glorification of sexy athletes posing naked or half naked for magazines is an indication of the digression from important issues. Such glorification is evident from the various athletes who feature in sexy magazines, with the athletes showing off their nude or semi-nude bodies (Kane and Lenskyj 1). When she posed for a picture without her top, the media was keen to focus on Jenny Thompson's breasts. Such actions demonstrate just how much the media and athletes have mistaken shame for entertainment. Common scenes and music during Olympics and sporting events have become sexual as most people concentrate on the exposed bodies of female athletes.
The reasons that some athletes have given for posing nude are simply self-delusional. For instance, one of the most common reasons is that they do this for money. To Ms. Acuff, the body is an amazing machine and posing nude is a great way to display her beauty, strength and athleticism. She goes on to add that women find great pride in their bodies, with the sexual images and scenes being a display of such pride. However, the best way to reveal one's pride is by demonstrating their personal achievements in the field rather than exposing their bodies in public. There is consensus that women look much better when they cover their bodies. As such, posing naked is never regarded as a move aimed at displaying beauty, and neither is public display of breasts a show of body muscles. This is a wrong way of looking at this controversial issue.
Depending on an individual's perception of nudity and sexual issues, the performance of one athlete will differ from another's. While the main aim for which Brandi Chastain removed her jersey was to expose her sports bra, it was mostly regarded as a celebration at winning the game at the Women's World Cup. The subsequent period saw many female athletes, such as them Ms. Acuff, posing nude under the guise of raising money for charitable purposes. Ever since that time, many female athletes have copied the same trend on different occasions. Despite the athletes posing under the pretext of working for a charity, critics have argued that there are better ways of achieving such objectives. Critics have also added that there is no visible connection between charity and sexual nudity. Indeed, women who exhibit such immoral behaviors have many traits in common. At the same time, there is no doubt that after such a sexual precedent, many more female athletes are likely to follow the trend. Just like the time after the shameful actions of Brandi Chastain, an individual's notion of morality and nudity will distinguish between those who copy others in the same field and those who stand by their own personal principles.
The behavior of women is believed to be guided by a desire to imitate. For this reason, if an athlete displays her nude body, others will want to pose for pictures in which they display more of their body parts. In effect, each subsequent action will be more shameful than the previous one. After the display by Brandi Chastain, Jenny Thompson demonstrated her intentions to go nude by posing without a top. Although she covered her breasts using her fists, this is not an indication of fear to display them. She may have been cautious of the backlash that her actions would have attracted. Moreover, the move is a demonstration that these women are determined to display their nude bodies for money. Indeed, it is on record that many female athletes have gone nude as a strategy to look for money, fame and other personal benefits (Lynn, Hardin and Warlsdorf).
Despite the widespread show of nudity, explicit materials and sexual images and scenes, the hope is not lost. There are some athletes who are determined to cast the profession in a positive light. Women of high self-esteem, such as Jennie Finch, have come forward to show that not all of them pursue selfish interests. After being voted the hottest female athlete by ESPN, she declined endorsement offers that required her to promote Maxim and Playboy brands of attire. While agreeing that muscles looked good on women, she clearly demonstrated her desire to be a role model to others by not exposing her body publicly. Instead, she was determined to achieve success and accomplish her dreams through self-control and hard work in the field. Through her actions, other female athletes can draw important lessons. All athletes should concentrate on achieving success and making their contribution through the respective sports rather than sexual activities.
Related essays