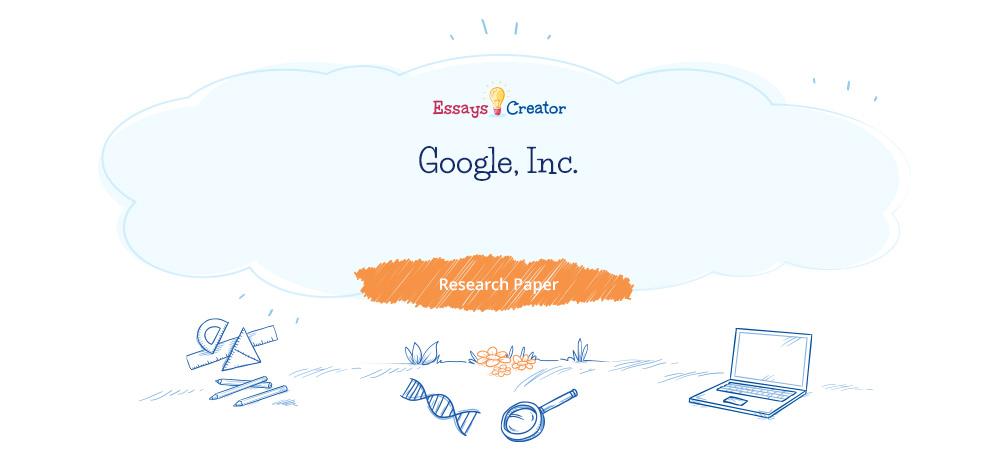 Google Inc. is a vivid example of how a small but the original idea can grow into something really great and profitable with the appropriate approach to its implementation. The research project of two Stanford University students Larry Page and Sergey Brin in 1996 was the starting point of a great success in the future. The company, which was incorporated in a garage in 1998, became the number one on the internet advertising market and gained the leading position as the developer of the best and most popular search engine in the world - www.google.com.
It was the time of the rapid development of the internet related technologies and people of the business world believed in the great future of the internet companies. Thus, these boys involved substantial sums from several investors for the company's development. The risk that investors agreed was rewarded in 2004 when Google offered shares to the market. Its market capitalization grew to $23 billion. However, people believed in the future of the online advertising market and they were right (Cozy Digital, 2012; Sun, 2011).
Google develops and produces services and products in various areas from internet advertising (AdWords) and search (www.google.com) to documents' creation and editing online (Google Docs) and watching the Earth from satellites (Google Earth). Moreover, Google acquires different companies that provide popular services to customers over the internet. Keyhole, Inc. the initial developer of Earth Viewer later renamed to Google Earth was purchased in 2004. Online video site YouTube was purchased in 2006 as the most popular service in the world that allowed people to share videos free of charge (Cozy Digital, 2012; Sun, 2011).
In 2007, Google acquired DoubleClick that had valuable relationships with web publishers and advertising agencies. All these companies were purchased for a reason - to develop and implement their researches into services that users like would due to the simplicity of usage and constant access to their personal data online (Cozy Digital, 2012; Sun, 2011).
The company never slowed down in its development; furthermore it widens the area of interests constantly. The Internet as the worldwide network continues to change and offers more and more useful services to the users so that they could share information and be in this virtual world all the time. The main advantage of such approach is that a user of such services will be loyal to Google and probably will use others in the future (Cozy Digital, 2012; Sun, 2011). Thus, that gives Google an opportunity to expand their presence on the internet advertising market - their main source of income.
Google Inc. is one of the most successful companies in the world that exploited the Internet as the major source of revenue. The virtual medium has become a major operation field for many large-scale companies such as Microsoft, eBay, Yahoo! and others. It is necessary to evaluate the overall situation with the company and come up with the appropriate conclusions regarding the following did the firm have at any time or does it currently have a sustainable competitive advantage? In order to answer these questions, VRIO model is used (Barney and Hesterly, 2010).
V in the VRIO model stands for Value; thus it is necessary to clarify the following issue does a resource provide the firm with any competitive advantage? As it can be noticed from the history of Google's development, the growing popularity of the Internet as a medium for information search became the major reason of the company's success.
Innovative search engine and exploiting of paid listings has provided Google with substantial competitive advantage since the popularity of Google.com was enormous. Paid advertising, combined with opportunities that search engine from Google gave to the users, was the driving force of the company's success (Barney and Hesterly, 2010).
R in the VRIO model stands for Rare. Therefore, the following question rises - do other competitors possess or have easy access to this resource? The major rivals of Google are Microsoft, Yahoo! and eBay. The first two are also involved into similar activities and eBay is threatened by Google because of the search opportunities given to its users in order to find potential vendors. Earlier, eBay was considered as the major player in this area.
The competitors were operating in the market before Google has come to the market. It means that they certainly had access to the same resource and tried to monetize search before Google started the same activities (Barney and Hesterly, 2010).
Therefore, one can conclude that each competitor has equal opportunity to the resource used by Google. On the other hand, it is necessary to realize that Google utilizes the resource far more efficiently than its competitors do.
I in VRIO stands for Imitability. Therefore, the question to answer is the following - is it costly for other competitors to imitate this resource? Due to the rapid development of Google as the company that provided similar services, competitors had to protect their businesses in different ways, including additional investments in the development of competitive search engines and strategic acquisitions (eBay and Skype, for example). The major resource of Google is the people that use company's search engine and various services like Gtalk, Gmail, Picasa, Maps, and others. The current state of things shows that activities of the major competitors cannot be called inexpensive (Barney and Hesterly, 2010). One can say that Google has created such a situation when competitors need to catch up, investing substantial resources into this process.
Finally, O in VRIO stands for Organization; thus, it is necessary to understand the following regarding Google is the firm well organized to exploit this resource. Initial activities of Google were aimed to create such a product that would be easy to use, but it had to provide competitive advantage. The company succeeded in this area, launching a search engine that made it very popular and paid listings that made it profitable and attractive for investors and potential advertisers (Barney and Hesterly, 2010).
Therefore, it is easy to conclude that from the initial scratch of the company's strategy and organization, Google was organized in order to exploit the Internet as efficiently as possible. It is not a conventional company and probably never will be. Pursuit of innovations and constant development of the risky directions in the area, occupied by the giants of the internet industry provides Google with substantial competitive advantage.
Google strives to create the information field or area that will not be dependent on the users' current position or situation. The main idea is to give all possible services that users might want to access in one piece. In other words, Google wants to become the only company that has everything in one place. The integration of Gmail as the mail service and communicational services like Google Talk, Google Wave, or Google Buzz was the first step to let people communicate without obstacles; moreover, it is presented as one solution with different opportunities and tools (Cozy Digital, 2012; Sun, 2011).
All these services and products gained popularity for Google as one of the most flexible services on the market able react quickly to changes in it. The global mobilization of humanity is one of such factors that changed the course of Google's actions. The company decided to take the niche on the market of telecommunication services. They are great at online advertising. Thus, why do they want to compete with telecommunication monsters like ATandT or Verizon on their territory?
Google has the innovative approach to everything. It can be compared with Apple in the world of computers and gadgets - beautiful and simple to use devices that almost everybody loves. Google does the same but in the Internet. What does it have to do with telecommunications business? The development of mobile phones, netbooks, and other devices that can have access to the Internet almost anywhere created a new opportunity for Google.
It was an opportunity to create such service or services that would make people independent from the stationary personal computers and would give access to Google services from any mobile device. Such state of things would allow Google selling advertising to every potential user of mobile phone or other devices connected to the Internet. It was too good to be truth, but the company decided to explore this direction.
In 2007, Google purchased Grand Central for $95 million. Later they renamed it to Google Voice and launched in 2009 as s telecommunications service by Google. In the same 2007, company declared its intention to bid for 700MHz spectrum that U.S. Federal Communications Commission was supposed to auction at the beginning of 2008. After the auction, the public came to know that Google's bid was about $4.6 billion. However, Verizon outbid it. Nevertheless, Google made Verizon follow FCC's open access rules that meant that consumers from now on were able to use any wireless devices they wished and download any software and content.
Since 2005, Google began to purchase unused fiber-optical cable (so-called "dark fiber") all over the world. These lines were left unused by telephone and cable companies that overbuilt them when the technical boom was at its height few years earlier. The company spent billions of dollars in order to purchase this entire infrastructure and get access to the wireless devices without restriction from the monopolists like Verizon. This search giant built from 40 to 70 data centers around the world filled with computing and storage capacity.
Their expenses grew drastically during the years of interest on the telecommunications market. Google decided to become independent from Internet traffic carriers in order to be able to avoid growing expenses on traffic that Google had to pay to them. They want to exclude a mediator from the scheme and become suppliers of mega broadband internet to at least 500.000 homes in America. It might cost something about $1.5 billion. Google needs these channels to be able to provide their services to as many users as possible including corporations. Furthermore, it will give an advantage because it will be a solution from one company - their useful online services like Gmail and Google Docs, Picasa and others using services of the same company.
The company spends great sums on the development of new products that will help them have success in such markets as mobile applications for different platforms, mobile operational systems, and web browsers. Furthermore, Google's previous development was closely connected with advertising and services related to it. They purchased software companies mostly and did not invest in building new facilities as if they do it today.
In 2009, Google announced that they have plans to sell mobile device designed inside the company. In other words, it was supposed to be their first mobile telephone. This phone is called Nexus One and is produced in cooperation with HTC, further runs under the operating system developed by Google - Android OS that became very popular these days as an operating system for mobile devices. This system was built as an alternative to Windows Mobile OS from Windows and iPhone OS from Apple. Android is based on Linux, which means that it has an open structure. It is done in order to make the process of application creation easy and smooth. Samsung, LG, Motorola, HTC, and many other manufacturers of mobile electronics started to use Android as OS in their smartphones. This platform has a great functionality and a user-friendly interface.
Google created Chrome OS as the open-sourced Linux-based operating system that works with web applications only. Google created a new service Google voice that is designed to make management of various numbers whether cell, home or work number easy. This service works as follows.
The call will be converted to IP and Google Voice system will determine the caller and let it through to the device that you want. It can be your mobile or home phone. You can set the rules for the callers, tune filters and so on. That is not the idea. Moreover, the main benefits of this system are that all your phone numbers are in one place, which is incredibly easy to manage. This system can handle the text and voice messages in the same way.
All these developments, implemented into products and services mean that all efforts of the company are now focused on one goal - to become a serious player in the market of telecommunications that will let them control the ways of advertisement on various devices connected to the Internet. Such approach might increase Google's income drastically since all the levers affect the market of online advertising will be in their hands (Kowitt, 2012; Raynovich, 2012).
However, the market today is full of other companies that definitely do not agree to the decrease of their share in the market because of Google's efforts. The companies like ATandT, Verizon, or Sprint that were in the market for decades with their developed infrastructure and formed customers' base are the most obvious competitors for Google on telecommunications market. However, such companies are not the only force in this area.
The companies that produce mobile solutions will compete with Google in some other way. HTC, Samsung, Motorola, and other companies that install Android OS to their devices will decrease sales of Nexus One hands (Kowitt, 2012; Raynovich, 2012). For example, HTC developed and produced the hardware part for Nexus One released HTC Desire with Android OS 2.1 on board. It leads to the direct competition between these smartphones. Such situations will keep happening hands (Kowitt, 2012; Raynovich, 2012).
Apple, as one of the most profitable companies on the mobile market will also oppose Google with its own developments. iPhone with installed iPhone OS is also a strong competitive device. This means that customers will prefer AppStore and the market of applications for Android Platform will not grow as rapidly as Google wants.
Microsoft with its Windows Phone OS is also a big player. There are plenty devices that are based on the Windows platform; thus, the market is full of solutions that proved themselves as solid and competitive. However, Microsoft according to their recent statements has no intention to release any hardware product to the market. Anyway, the situation is very competitive for Google, but there is nothing impossible. Google has a clear intent to change the existing market drastically. They lobby the programs that should make the market of telecommunications more open on the governmental level. Google constantly looks for solutions that might give customers the choice hands (Kowitt, 2012; Raynovich, 2012).
Google has everything to conquer the telecommunications market. The key factors that should lead to success are as follows. Google has a good financial situation, but telecommunication business requires huge investments. ATandT, for example, is a huge company with massive cash flow; it has $72 billion debt hands (Kowitt, 2012; Raynovich, 2012). Verizon has $63 billion in debt. This low-margin business always needs money to invest. Google has business already with high about 60% margin. Anyway, they want to gain their share in this market and are ready for it financially.
Google already has many services and a couple of products that gained popularity. Gmail, Docs, Voice, Earth are great products with unique functionality. Therefore, it is crucial in the current situation to keep on going and improve them since people love them. The usability of the products and services of the company should be on the highest level because their services that are on the market, and people use them already hands (Kowitt, 2012; Raynovich, 2012). Why bother and change it to something new? Google knows how to attract the users' attention to their new and useful services, so they are good in this area.
Google has an interesting approach to pricing for their services. Since their main income is obtained from online advertising, they do not charge users for using their services. Their services like Gmail, Talk and others are free. It is important to keep such a situation in mind when they will offer Internet access to customers. It could be great to make a price for Internet access competitive or even free of charge. Such approach will attract plenty of customers and the company will be able to charge internet users for services they use, but not for the traffic itself hands (Kowitt, 2012; Raynovich, 2012).
This company will definitely conquer the market of telecommunications. It is very possible that Google will change its face, as we knew it before. The company has money, technologies, and desire to change the current situation into something else, more suitable and free. The modern world has already changed. There are no borders in the world of Internet and not only does Google participate in the process of the improvement of this world but changes the world itself. Services and products created by Google become more and more convenient to use and if such approach to their job persists soon we will have some other understanding of what telecommunications are.
Related essays