CarMax
Procurement
Procurement is defined as the act of buying or obtaining goods and services. In most cases, it involves processing and preparation of a given order as well as ensuring the end receipt and approving received payment. Procurement involves aspects such as planning a purchase, determination of standards, value analysis, financial planning and price negotiation among others (Urban, Hoffer & Pratt, 2000). The procurement process at CarMax is mainly the responsibility of a procurement service manager, who is in charge of overseeing and managing companys purchasing functions and other related systems and processes. Procurement manager is further responsible for implementing policies that are related to transactional procurement and paying for services and goods of the company. Regarding material procurement, CarMax procures most of its inventory from trade-ins, which in most cases is processed as transactions separately from companys sales. On the other hand, CarMax procures its goods through the secondary means, namely, through dealer auctions (Urban, Hoffer & Pratt, 2000). Most of the auctions often offer various guarantees on the cars acquired by CarMax. Thus, in case of any problem with the vehicles, the procurement officers can eliminate them within a few days after their purchase. The efforts of the procurement team are often aimed at finding cost effective and high quality cars with a timely delivery system.
The CarMax logistics team, on the other hand, has the responsibility of overseeing the shipment of all purchased vehicles. The process includes controlling procured goods at the embarkation point, shipping contract and freight rates negotiation and ensuring that the procurement process is in compliance with given import-export regulations for the imported cars (Urban, Hoffer & Pratt, 2000). On the other hand, strategic sourcing and project management form the key aspect of CarMax procurement process, which aids in adding value through improvement and evaluation of the purchasing activities. CarMax strategic sourcing and project management help the company identify new suppliers, assess potential markets for their cars and focus on the supply and demand issues, and finally, minimize the costs and risks involved. CarMax procurement diagnostic is often based on three key elements (Figure 1.).
Figure 1.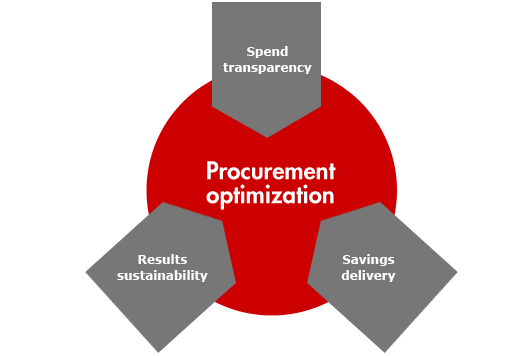 Spend transparency: Company uses this element to create a complete and clear picture of its company-wide purchasing expenditures. This includes companys pragmatic overview of the supplier, material group, and structures.
Results sustainability: CarMax often engages in assessing the gaps between companys full potential and purchasing performance, which include the structure, mandate, tools and capabilities. Establishment of result sustainability policy in the procurement process often leads to the improvement of companys operations.
Purchasing
Most business literature defines purchasing as the process of buying goods and services. Purchasing is a very important and complex process at any given company. Purchasing is regarded as the objectives that reach beyond its primary role of acquiring goods and services in response to companys normal needs. The main goal of purchasing at any given company can be divided into five main categories, which include supply continuity and efficient management of the sourcing. Other categories include the development of a proper management base for supply and the goals in alignment with the internal stakeholders as well as establishment of purchasing strategies in support of companys objectives and goals.
CarMax has established efficient purchasing system for obtaining its material goods, which are mainly vehicles, and for customers purchase of its products. CarMax mostly obtains its vehicles through outright private purchases. Companys main purchases include used cars that are approximately one to six years old. Before any purchase, the company undergoes various steps to determine the offer. In first instance, the seller of the car takes his or her car to CarMax without any appointment. Companys workers then make a detailed evaluation of the car, which includes checking its general condition and features and conducting a test drive. Other aspects include checking the history report of the vehicle and making a comprehensive comparison of the vehicle with the prevailing market condition. After analyzing given information, CarMax makes a seven-day free written offer to the seller of the car and gives a twenty-minute time period to think about the sale, after which CarMax actually makes a purchase. Apart from private purchases from individual sellers, CarMax also purchases their cars in bulk from other regions or countries depending on the car quality and the cost effectiveness of such sales. Companys procurement officers are in charge of outsourcing and conducting a strategic research to make a purchase in accordance with the import policies of the given country.
On the other hand, consumers can also purchase used cars from CarMax. The company conducts an auction where it sells used cars that do not fall within one to six years to other registered dealers or customers. At the same time, customers can make a direct purchase of the vehicles after an agreement with the sales and procurement managers. The prices of CarMax cars are often placed on the car windows as stickers and customers are often required to pay these prices without bargaining. CarMax is straightforward in most of its transactions, which allows the purchasing parties to get a firm price on the trade-ins and the same price on the car. The process of purchasing at CarMax is transparent and very fair. Furthermore, CarMax offers good rates on the vehicles, which are in line with companys financial margins in most cases.
Collaborative Supplier Relations
To keep up with increased competition, larger companies have resorted to higher dependence on suppliers. Many companies have assumed outsourcing as a way of life as they strive towards achieving efficient supplier solutions (Theyel, 2006). Companys main aim in undertaking collaborative supplier relationships is to improve its cost saving strategies especially in terms of procurement. Other goals include company innovation, achievement of high quality and increased efficiency within the company. In return for providing collaborative supplier relationships, most businesses tend to offer an increased number of shares in their companies while others tend to offer a technical advice and form joint ventures. Companies that have effectively utilized the opportunity of collaborative supplier relations, have often expanded their enterprises forming a business model in alignment with suppliers activities (Theyel, 2006). In theory, the company that undertakes the supplier relations approach often becomes more efficient and innovative, and in most cases, avoids disrupting its supply chain and eliminates the overlaps in its annual expenditures. In most cases, CarMax does not have a specific or constant supplier of its vehicles since most of inventories are acquired through trade-ins and outright private purchases. In other words, any individual, who wishes to sell his used car to the company, has the capability to do so. The main relationship that the CarMax has managed to establish with its car suppliers mostly implies the good packages that the company offers especially on the sale rates. Most suppliers have maintained a perfect relationship with CarMax due to the good prices they offer, which has further enabled the company to reduce its costs. Apart from the suppliers of materials, CarMax has formed a good collaborative relationship with Citibank, which has acted as its major financial supplier in terms of bank loans. Collaboration between CarMax and Citibank has ensured that the bank takes the responsibility for companys loans. In return, the bank becomes the sole custodian of all companys financial transactions including savings and investments.
Vendor Management
Business literature largely defines vendor management as the discipline that enables companies to control its costs, establish service excellence and perform risk mitigation to acquire an increased vendor value during the deal (Sarmah, Acharya, & Goyal, 2006). The cycle of the vendor management process can be expressed as follows:
Figure 2.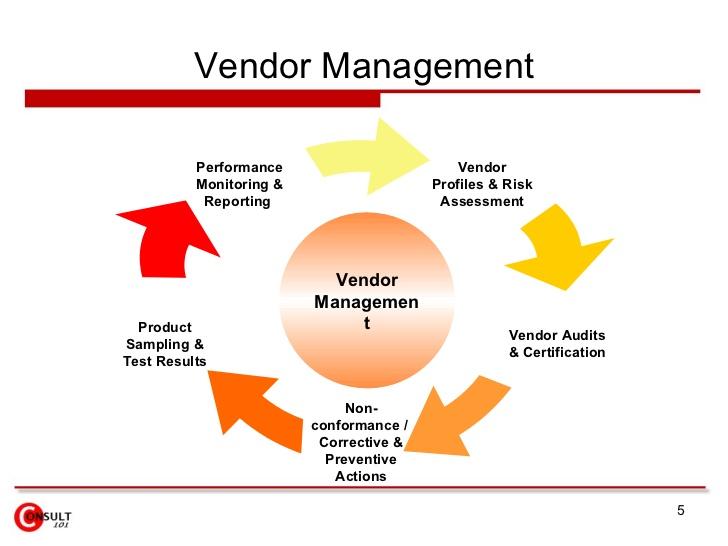 How it works
Step 1
Visit our website and go to the order form
Step 2
Fill in specific essay details in your order description section
Step 3
Pay for your custom essay and get your order verified
Step 4
Process of writing your academic assignment
Step 5
Editing and anti-plagiarism check
Step 6
On-time delivery of an already written essay
Vendor management enables companies to effectively develop, control and manage its vendor relationships, contracts and overall business performance to ensure efficient and timely delivery of products and services. Furthermore, this process helps in ensuring that different clients attain their business objectives, minimize potential disruption of the business activities, avoid delivery failures and ensure sustainable multi-sourcing while achieving maximum value from the vendors (Sarmah, Acharya & Goyal, 2006). Vendor management process has enabled some companies to drive companys cost accountability through managing the performance of vendors and ensuring sustainability through measurement compliance. In most cases, efficient vendor management process requires a company to understand that it is more than just an operational function that can be an important tool in delivering and supporting key business strategies. CarMax has successfully employed vendor management through the application of three critical factors in the process, which include communication, performance measurement and definition of roles and responsibilities.
Communication: CarMax has established excellent communication channels with its vendors. One of the most successful tools that CarMax has used with their vendors is the organization of regular meetings where companys end users have the ability to provide input to the vendors of the provided services. Communication through regular meetings further enables the vendors and the company to share information on the conditions of the used car market in different vendors locations.
Performance measurement: CarMax has ensured that its vendors regularly report on the service and staffing levels, employee turnover and consumer satisfaction. The company has ensured a regular discussion on the performance results between the end users and vendors.
Definition of roles and responsibility: CarMax has ensured that the contract issued by the company and its vendors clearly defines their relationship. Clear statement and definition of the roles of the company and the vendor often help avoid work disputes.
The three factors form the key foundation for the strong vendor management process and vendor relationship that CarMax has successfully exercised over the years.
Related essays