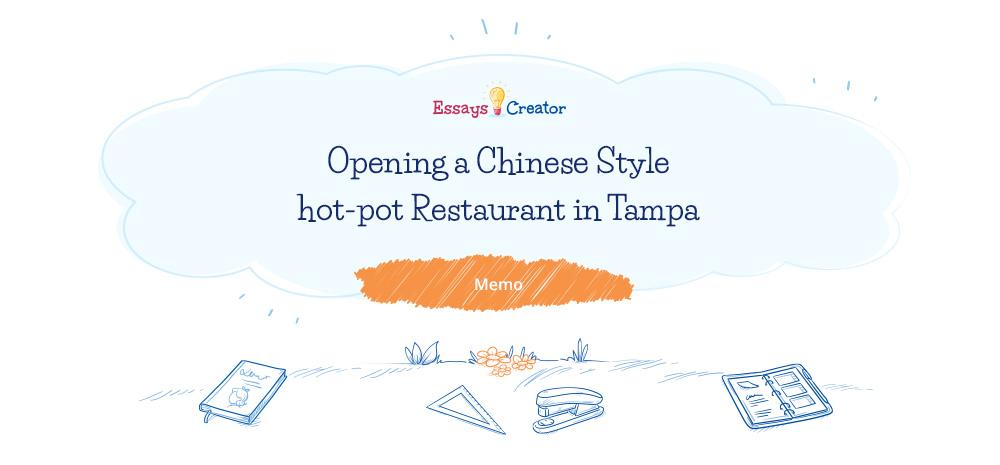 Subject: Opening a Chinese-Style hot-pot Restaurant in Tampa.
Date: 19/10/2015.
The purpose of this Memo is to outline the market analysis and market strategy of a Chinese-style hot-pot restaurant called Dwank, in Tampa city. The city has a growing population of Chinese, thus opening a restaurant that targets this population is a good idea for a profitable venture. In other areas, Chinese hot-pot restaurant, for instance, the Mongolion hot-pot has been doing well in business.
Market Analysis
Target Market
Dwank hot-pot Restaurant will provide delightful dining experience for most Chinese and other people who prefer Chinese diet within Tampa city. The restaurant target mostly teenagers to young adults as customers. These generations are more up to date with aromatic diet with assorted fresh ingredients to improve their health. The targeted population has grown up using these foodstuffs including goji berries, ginseng, black cardamom pods, jujubes, and herbs. According to Beall (2010), 72% of 18-29 years olds are using such meals. Dwank hot-pot Restaurant wants to attract these age groups especially since they have more experience with these types of spicy crimsom.
Market Growth
The restaurant sector is rapidly growing as more and more people are using them for connections, leisure, taking meals, drinks, and just for fun. They have increased in users since they were first created, and the market of Chinese hot-pot restaurants continue to attract more potential users. As Dwank restaurant became more popular, the dishes such as handmade noodles, marbed meat, let simmer, fresh seafood, enjoy, and crisp vegetables will be introduced to potential consumers. The restaurant will make improvements and new advancements because other restaurants companies had to compete or at least keep up with them (Beall, 2010).
Competition and Competitor Comparison
Dwank hot-pot Restaurant will have many competitors since there are now many restaurants in various parts of the city. There are a few competitors though that are more popular and show greater competition to this restaurant, for example, Harry Waugh Dessert Room, La Terrazza Restaurant, Wright's Gourmet House, and Happy Fish restaurants. In terms of competitor comparison, Dwank hot-pot Restaurant has various Chinese dishes, but also has some features that make it different and unique, for instance, inclusion of spices, fresh foods and good customer relations. The benefit of having this restaurant is that will provide better quality food and refreshment that promote health (Belch & Belch, 2009).
Future Market
As Dwank hot-pot Restaurant gains more clients, changes in the diet and positive response to customer concern will be made to improve the services. At the beginning, the restaurant will allow customers to choose their favorite meal from an assortment of diets that will be availed in the menu. Overtime, the restaurant would like to expand its services so that there are more people served. In the future, the restaurant would also like to give customers the option of give feedback based on the services without any coercion (Bartkowiak, 2012). This will allow users to have better exposure and taste of the diets to the different customers.
How it works
Step 1
Visit our website and go to the order form
Step 2
Fill in specific essay details in your order description section
Step 3
Pay for your custom essay and get your order verified
Step 4
Process of writing your academic assignment
Step 5
Editing and anti-plagiarism check
Step 6
On-time delivery of an already written essay
Market Strategy
The strategy that the restaurant would use to reach its potential customers includes advertising, free gifts and posters. Using these methods, the messages that the restaurant will display to its potential customers include products offered, price in terms of cost effectiveness, place in terms of physical location and accessibility, and promotion in terms of the methodology of relaying the information to potential customers (Belch & Belch, 2009). In marketing, advertising will be useful to the restaurant in understanding and determining consumer behavior. This is because advertising acts as one of the major disciplines in marketing and therefore is of essential need to know how consumers reacts with regards to advertisements. It will be done via means such as newspapers, radio, television, and internet through social media. Advertising would also help the restaurant understand how people react to their products (Armstrong & Kotler, 2012). Thus, advertising in marketing has a lot of usefulness to people especially marketers.
Advertising is useful in that it plays the informative role to consumers. Advertising informs consumers about new brands of different products that the restaurant provides in the market, thus it creates awareness to consumers so that they buy products because they are made aware of the importance of the product in question (Belch & Belch, 2009). It has a lot of benefits to marketers since with it the sales of that firm increases to an extent (Armstrong & Kotler, 2012). The cost of advertising that the restaurant would incur in informing its potential consumers will be US$1200.
Through providing gifts, the restaurant would be able to reach many potential customers, thereby increase its sales the marketer is able to understand the effects of free gifts on consumer behaviors because customers learn of the products and buy them, hence this method of sales promotion increases sales in the restaurant (Bartkowiak, 2012). An increase in sales shows an economic benefit to restaurant. Here, the cost of gifts is approximated at US$ 560.
Another method of reaching potential customers is using posters. Posters may display lavish plates with different kinds of foodstuffs that are attractive to the onlookers. In this case, posters are useful to marketers since they are able to and understand how consumers react to different brands of products, for example, if two different people market their products through posters, consumers become aware of that particular product (Bartkowiak, 2012). In addition, for the marketer to know consumer's react to that product they will look at the way consumers demand the products. Here, the cost of putting posters is approximated at US$ 780.
Related essays