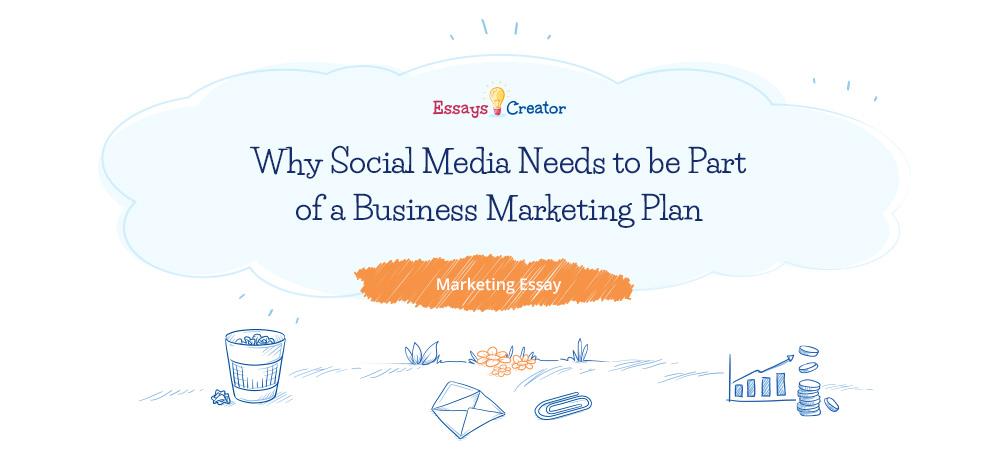 Social media sites are becoming more and more popular. Different companies use them to promote their products and increase sales. This essay will discuss the role of social media in creating a business marketing plan on the examples of successful use of social media among companies.
Social media is important for any business marketing plan; therefore, it should be an indispensable part of it. There are many reasons for that because of the positive impact of social media on businesses. Its importance is growing constantly. According to the 2018 Social Media Marketing Industry Report, in 2018, 94% of all companies that had a marketing department considered social media as part of their marketing plan. Almost 60% of marketers devoted a full workday to develop and maintain social media marketing. 43% of people aged from 20 to 29 years old spent more than 10 hours per week on different social media sites. 85% of the companies that had a social media platform as part of their marketing plan recorded the growth in their market exposure. 58% of the companies that had already used social media marketing for more than 3 years showed growth in sales during that period. As a result, using social media as a part of any business marketing plan provides positive perspectives for a company regardless of the goods or services it offers.
Every day the influence of social media on marketers and business owners grows stronger. Thanks to it, they have a good chance to reach customers and communicate with the target audience on a personal level every day. Social media is often called a game changer for businesses that is used in marketing, sales, promotion, customer service, and other business activities. This tool is extremely powerful in comparison with traditional marketing. Currently, the success gap between businesses that are using social media in an informal manner and the businesses that have more planned strategic approach is becoming wider. Companies that use social media strategically are usually more satisfied with their results than those that are more skeptical about the role of social media. Businesses that use social media as a part of business plan are 1.5 to 2 times more likely to increase their revenues. Therefore, social media is an important part of a business marketing plan if a company wants to increase its revenue.
It is important to use social media in business marketing plan in terms of the company's sales funnel. It will help to increase sales and revenues. It is necessary to start with the top of the funnel. In the funnel, social media has four important functions. The first one is creating awareness or enhancing the initial discovery of the brand or product for the customer. It can be made via advertising, sponsored posts, influencer outreach, or content that encourages sharing. Social media sites are often the initial introductory to a brand. They make the widest part or the top of the sales funnel. The second is customer education. It means building loyalty and influence via useful, entertaining, or valuable content through social networks. Social media allows to develop a new type of trust among the audience by humanizing the brand. This stage occurs near the middle of the funnel. The third function is empowering customers to the particular brand. It is noticed at the end of the funnel. The fourth and the most important role is that social media allows companies to collect information. This function occurs at the bottom or the narrowest part of the sales funnel. Those roles are played by social media in the sales cycle or funnel. The next level of involvement in social media marketing is understanding the steps to get there. Understanding the role of social media in sales funnel can help to develop a successful business marketing plan with social media involvement.
In order to implement social media in business marketing plan successfully, it is important to study the most popular social media sites as well as their functions that can be used by the company in its marketing plan. According to 2018 results, the most popular social media sites are Facebook, Twitter, LinkedIn, Instagram, Pinterest and Google+. Facebook is among the simplest tools to use, and many companies start with it. It is the leading social media site, which continues growing. It has more than 1.26 billion users, and 128 million of them are from the US. Therefore, the audience for any company is enormous. Most companies that use social media in their marketing campaign prefer Facebook.
Google+ is one of the largest social networks. However, companies should consider that a Google+ account is mandatory whenever a person creates a Gmail account. This increases the account ownership statistics. No other social network has Google's web assets advantage. YouTube is now more popular than cable television. YouTube is available for more adults than cable networks. In the US, the number of people who watch television has decreased in comparison with the number of people who watch YouTube regularly. Many companies take advantage of this by releasing their advertisements or marketing campaigns on YouTube before cable networks. For example, the 2014 Super Bowl XLVIII ads were released on YouTube before the big game and received triple YouTube views. LinkedIn is still the largest professional business network, and it continues to grow. Pinterest is the fastest growing social network. Pinterest is also among the leading referral sources for organic traffic. All these social media sites can be used successfully in business marketing plan.
There are many companies that use social media successfully. Retail companies can increase their sales dramatically using social networks. For instance, Nordstrom has nearly 4.5 million followers on Pinterest.
Throughout the retailers 117 stores, the top pinned shoes and handbags were displayed featuring a recognizable red Pinterest logo. This made it easier for customers to find the top-pinned items in-store, giving them easy access to the popular items and acting as a social proof. The success of this endeavor has led to an online catalog featured on Nordstrom.com called "Pinspiration".
The company also developed an in-store application that allows salespeople to match popular Pinterest items with the available inventory in order to serve customers better.
To summarize, social media plays an important role in modern businesses, and its influence is growing constantly. As a result, many companies reached their success by using social media sites as a part of their marketing campaigns. Social media is important for any business marketing plan. Businesses can increase their sales and revenues if they have social media profiles. Social media can be used at any stage of a sales funnel. The most popular social media sites are Facebook, YouTube, Google+, and others. Most companies use them to reach their customers. Nordstorm is among the companies that use Pinterest to promote its retail business.
Related essays