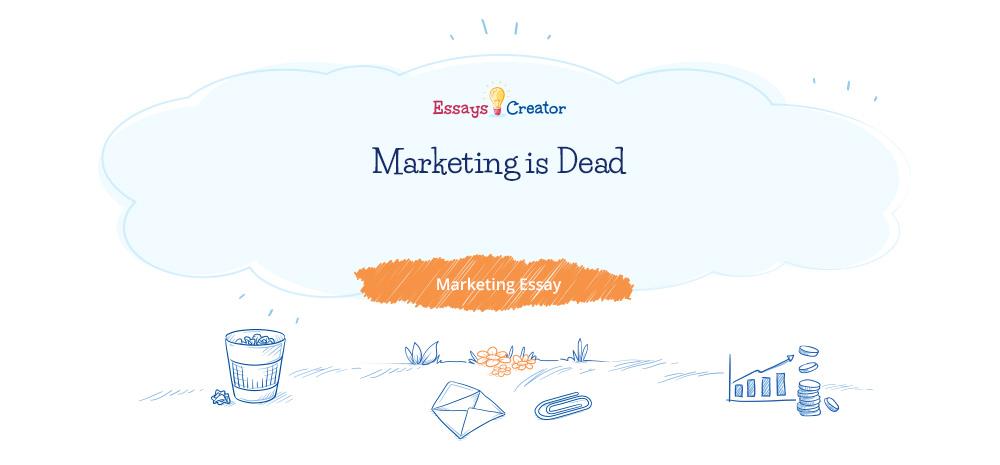 Abstract
In his article Marketing is Dead, Bill Lee suggests some new ideas that could help to replace traditional views on marketing strategy and apply new ones. This paper demonstrates my understanding of the key points from Lee's article. It highlights the importance of applying those points by business owners in the future. It also explains what a reader should learn from this article.
Marketing is Dead
In his article Marketing is Dead Bill Lee, the a president of the Customer Reference Forum and Executive Director of the Summit on Customer Engagement, discusses changes in the traditional marketing could and provides valid information for those who would like to upgrade to the latest marketing trends. Lee states that traditional marketing is not an appropriate way for the organizations' development anymore. he also expresses his opinion about possible scenarios of how to change the traditional view of marketing, and offers some useful solutions for companies to switch to a new marketing approach. This is a useful article to read for those who want to learn new trends in marketing and find new ways for its development in business.
The process of operating some business entity is continuously developing and changing over time. The rapid development of media sources and regulations for running a business requires a new approach to marketing. After reading this article, there is one very essential point that each reader should learn: the traditional marketing approach that worked for many years is not useful anymore. It is not beneficial for you as a business owner to apply old rules of marketing to modern business environment with well developed media sources. Next, it is important to keep track of changes in consumer behaviour. Business owners must know how to work with their current customers and attract new ones. They can find some useful advice in this article of how to accomplish their goals using a new approach towards marketing. The information from article will help them to organize their business in the best way right from the start, and escape the mistake of using an old marketing approach. In order to demonstrate that an old marketing approach does no good for modern business operations, Lee provides statistics as an evidence of failures of Chief Marketing Officers (CMOs) to generate sufficient business growth. He warnsthat hiring employees to persuade buyers to spend money is a wrong attitude in a today's media-infused environment. It is a useful advice ifor many companies to follow.
To continue, Lee also indicates some key points for CMOs onhow to operate in a fast changing environment, when a new approach is needed to replace the broken marketing model. According to Lee, it is essential to restore community market and find a way to use a social media in order to create environment where potential customers could find out about products and their qualities from people they trust. A role of Internet as an international tool of communication and spreading information is particularly important in influencing customers' minds.
In his article, Lee gives a new vision of marketing future, where customers will be involved in company's decision-making process. After reading the article I have learnt that traditional ways of marketing should be replaced with a new marketing approach, the primary focus of which is community-oriented values. I gained the idea of how to accomplish this goal through the use of social media . I also gained an understanding of business in general. Any company is a business entity, where success means how quickly and effectively management and employees are able to move away from the old methods of performing their duties to apply the new ones. If upper management would like to run their businesses successfully, they should be open for any changes and have the ability to adapt to those as soon as possible. In such a way, people who run a businessshould apply their leadership qualities and be both, short-term and long-term goals oriented in order to identify the new trends and successfully implement those before competitors.
Related essays