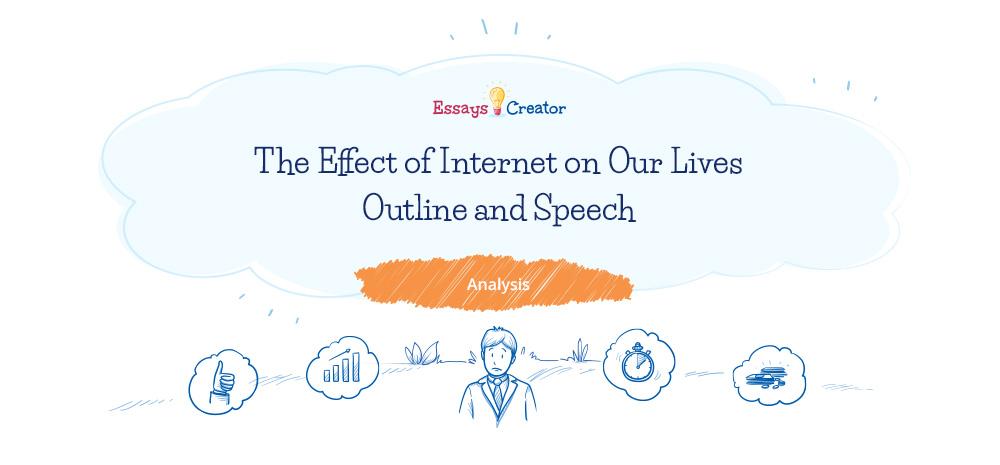 Outline
Introduction
Greeting
Invention of the Internet.
Obsession with Internet possibilities.
Thesis: There are billions of ways how people can use the opportunities that the Internet provides, including entertainment and boundless information; however, there are some disadvantages and even threats which appear in the Internet-integrated societies.
Body
The benefits of the Internet

Instant access to information
Schoolchildren do their homework
Investors keep track of the data
Sport fans get the scores
Communication possibilities
Email versus snail mail
Instant messaging services
Disadvantages and threats of the Internet
Breaking the interpersonal relationships
Replacement of ties with machines
Change of family relations
Virtual socializing
Effect of the social media on the image of teenagers
Change of self-worth
Negative body image and its results
Internet addiction
Definition of the Internet addiction
Parallel with gambling
Misuse of the Internet
Illegal activities
Uncontrolled information
A source of plagiarism
Conclusion
Acknowledgement of the benefits of the Internet
Lonely people need support
Possible solutions
The Effect of Internet on Our Lives
Informative Speech
The invention of the Internet is one of the most marvelous events in the history of computer technology. People of all ages, nationalities, backgrounds and social statuses are becoming obsessed with its possibilities. Internet has penetrated into every part of our everyday lives. There are billions of ways how people can use the opportunities that the Internet provides, including entertainment and boundless information; however, there are some disadvantages and even threats which appear in the Internet-integrated societies.
Instant access to the information one needs is the biggest advantage of the Internet. Schoolchildren cannot imagine doing their homework without searching for information online. Investors keep track of quotes and stocks which are only a click away. Sports fans can get the statistics and scores of their favorite teams in no time. Moreover, snail mail cannot be compared with emails in its convenience, speed, and efficiency. In addition, Skype and other instant messaging services enable people to stay in touch with relatives, friends, or business partners for relatively little money.
The present day technological development brings comfort, but at the same time it destroys the interpersonal ties, replacing them with computers and machines. It turns the world into a place where a person does not know any neighbors but can order anything not leaving the apartment. Relatives spend spare time chatting with distant strangers online rather than discussing family issues with the people they love. Internet users prefer to keep away from meaningful relations; however, virtual socializing becomes an alternative to the social reality. Thus, the perception of reality is changed (Günay 124).
Furthermore, modern social media affect the self-worth and image of teenagers who prefer shares and likes in Facebook, retweets in Tweeter, and comments in Instagram to real friendship. When girls see the ideal photos of celebrities and fictional accomplishments of their Internet acquaintances, their body images get negative. It may result in eating disorders, stresses, and depressions. Teenagers do not realize that genuine popularity and close relationships can be achieved only in real life by being attentive to others, kind, and friendly.
The inability to control Internet use is defined as Internet addiction. It can lead to serious damage to the social life and psychological condition of a person, even to a depression. It can be compared with gambling that has numerous negative effects on a person (Lee 373). Internet offers the addicts the freedom to say or do whatever they want to. Shopping, chatting, gaming and an unlimited number of other activities are possible for those who open the web browser. That is where the misuse of the Internet starts, and the users lose focus on the reality and time.
Furthermore, the Internet is the environment which promotes a lot of illegal activities. There is a serious concern about an easy way to pornography, violence, profanity, and bias to any user, especially a child. Going online one gets the information which is uncontrolled. Besides, the Internet can serve as a tool both for intellectual creative work and for mere copy pasting and plagiarism for students.
To sum up, the advantages of the Internet cannot be questioned. However, those individuals who spend much time on the Internet need support, as they mostly feel lonely and get sunk in depression (Ayas 285). Face-to-face relations can serve as a means of help to those who get lost in wiki, twitter, Facebook, or blogging. Moreover, there should be special preventive programs for those who have forgotten about real life. If this problem is ignored and there is no solution, there will be bigger troubles in the nearest future. The parents, teachers, psychologists, and mass media should raise the awareness of young people of the negative effects of Internet addiction and fight against them.
Related essays